Two more work days to get through to another long weekend! Definitely looking forward to that! Today felt like it lasted ages…guess that could be due to feeling exausted from all the traveling we did from Friday through yesterday. While it's fun to travel around, and spend time with everyone, there's just something nice about coming home to your own home, and sleeping in your own bed.
We had a really nice long holiday weekend.. Five of our six different x-mas' have been completed. We still have one this Saturday in Springfield. Kaylor got a ton of new goodies.. I believe she was most thrilled about the GameBoy. She has been going on and on about getting one, and her X-mas wish came true, thanks to Aunt Vicki! (note *you didn't really have to get her the GameBoy to win her love, Aunt Vicki.. you're already her favorite Aunt!.. lol) All in all Santa was very good to us. We were blessed to spend the holiday with all of our families, be in good health, and enjoy it.
Thought I would share a few pics from our holidays:
This is cousin Keith (home from Iraq) Can you tell Kaylor just adores him?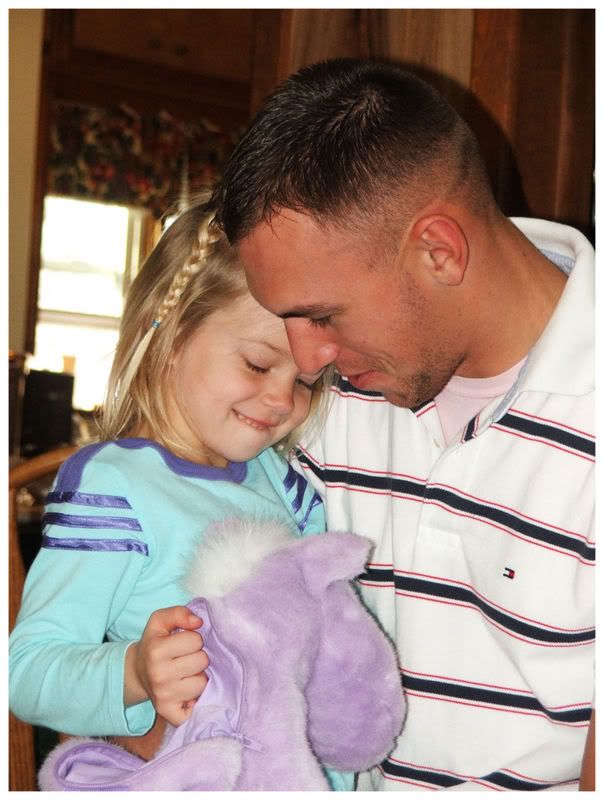 Here with her key for Santa and his milk & cookies on X-mas Eve
Can't forget Brock..he is part of the family too!
Holding our new cross necklaces from my mom/mamaw
Merry X-mas!