Is it really almost Thanksgiving?! Hard to believe that 2006 is nearing to an end already.. However, I do have to say that I love the holidays!.. I love the feeling of giving, and making someone feel special. I love you get that warm, fuzzy feeling by seeing all the holiday lights glowing at night.. I'll be putting up our tree & decorations next Friday after doing some shopping EARLY Friday morning.. Kaylor is going to be my big helper.. I can't wait!

Something exciting as far as wedding plans.. well, a couple of things. We officially booked our photographer last week! I'm estatic! They do absolutely breathtaking work, and I am beyond thrilled that they will be photographing our special day. Check them out! www.bruerphotography.com Love them!! I will also be going dress shopping again! Yes, I do indeed already have a dress, BUT, I tried on what the assistant brought me, so just to make sure that I have the "right one", I wanna try on some more styles. We'll be doing that on Monday night..

So we're eating dinner tonight, and well, Erik as some may know can be a bit "gassy" at times.. an incident slipped, and Miss Kaylor remebering all to well what happened, when SHE slipped at dinner not too long ago, decided that she would discipline daddy, just as he had her! She made him stand up, and continuously asked him what he did wrong. She told him it was IN-PO-PRIA-AT (meaning inappropriate, but pronounced just as I spelled) for him to do so… It was the funniest thing I've witnessed all week.. gotta love kids!

On a side note… I must say that sharing your life with someone that supports you, loves you for who you are and makes you feel good inside.. that's what life's all about. Most definitely.



Finally got a new scrapbook for Kaylor's album done… hadn't been able to work on my own things for awhile, as I was busy completing projects for the traveling Circle Journals, and making cards.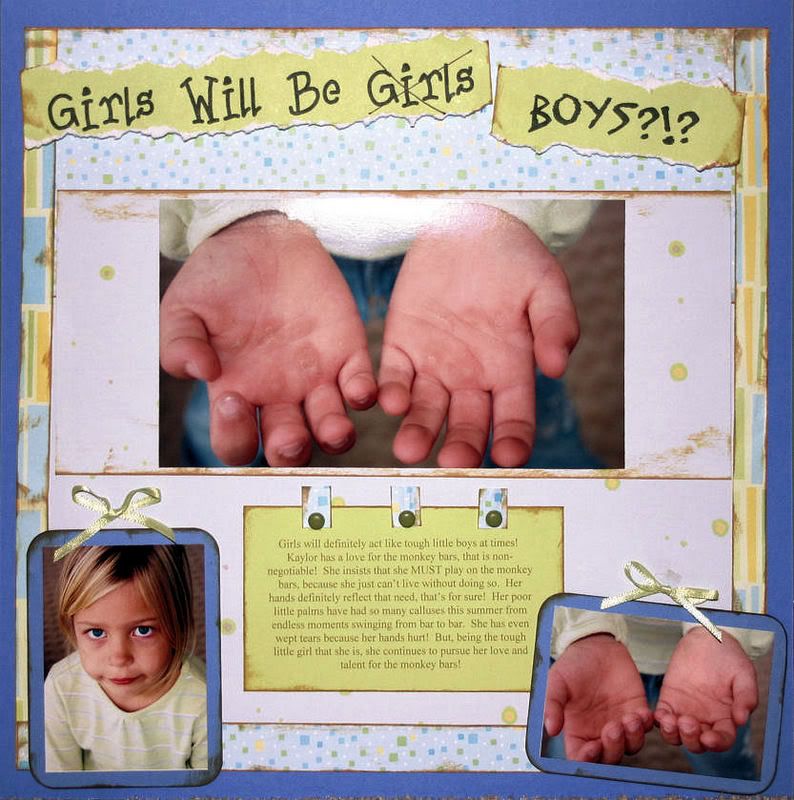 We also got our family pictures back! Here is a sneak preview… but, some of you will have to wait til later to see the rest! 😉 They turned out very nice! For more information on my friend Sandy, visit www.sandyvancephotography.com