Wow, it's already been 16 days since I've last updated? Time sure flies when you're having fun, I suppose! Back to work.. I'm leaving work early on tomorrow for Kaylor's school parade & Halloween party, so that should put a slight break in the work week. We'll take her trick or treating tomorrow night, I'm sure she'll want to head home before the end of it all, just to hand out candy. I can completely relate to her thrill in doing so. As a kid, I always wanted to be the kid answering the door and handing out candy, but never could while growing up and always living on a farm. So, when she gets her fill of free sugar, I'll gladly let her come home and do the honors.. Her costume is complete! My mom is such an incredible seamstress! Having always made mine & my brother's costumes as kids, it was only natural for her to want to do so for Kaylor too. Isn't she the sweetest black kitty? =)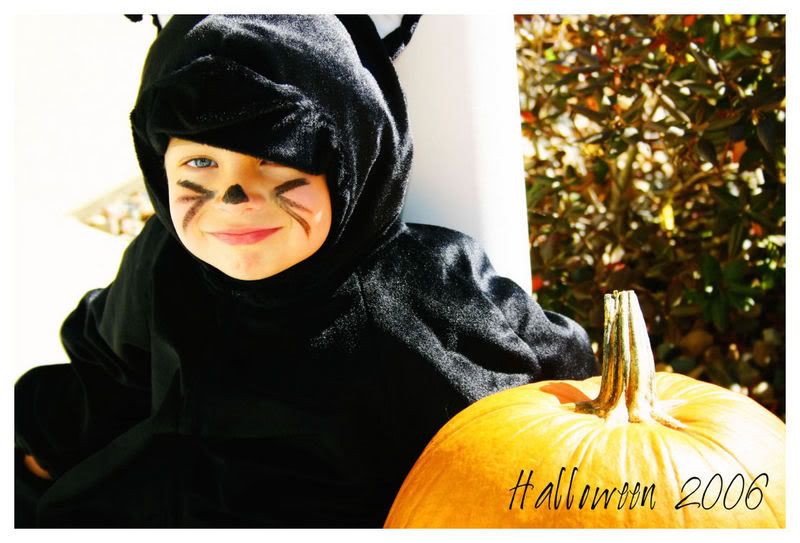 Today was Erik's first day as being self-employeed! He still has 2 days (Wed & Thurs. ) left at Country this week, then it's official. I think nerves are getting to him at this point, an almost "Oh my word, what am I doing?!" type thought, but I just keep reminding him that this is God's plan, and as long as he keeps his head up, and follows his dreams, and passions, things WILL work out just fine. I have faith in him (as well as Him above). One of the most admirable traits I've found in my husband to be, is his determination and drive to succeed. Each day I learn from him, and he makes me want to be the best person that I can be.
Yesterday morning in church, our sermon focused on not only following Him, and allowing yourself to leave behind your baggage and follow, but to share your knowledge with others. Spread the word of the Lord, and focus on those who need it the most. The tax payers and the sinners. The more I continue through this life, I often times see a person who is selfish, who is thoughtless, and who is so focused on the negative that they can't look any further. Those are the people who we must reach out to. We must greet them with open arms, and hope that they too, will realize what this life is all about. While I wouldn't ever push my faith onto someone who is unwilling to listen, the best we can do is pray for them, and pray that they will have the courage to really stand up and follow Him. On another note, theres's something that stands out so strongly in my mind, since yesterday. Erik & I were driving in the car on Saturday, and I mentioned to him that at our wedding ceremony, I won't be nervous for taking our vows, but rather most nervous about standing in front of a ton of people, as they watch us. It seems so silly, but anxiety sometimes kicks in.. lol.. Without hesitation Erik says to me, "But you won't be alone. You won't be standing up there by yourself". He has no idea what an impact those words have had on me since he said them. He is exactly right. I am not alone. He is my partner, my best friend, and my guidance. As he & I join our hearts and souls in marriage to unite as one, he is with me and I know that I will never be alone. I know that I can count on him, to always be there when I need support and that strength to not be nervous. Whether he is physically there or not, I know one thing for sure. I am not alone.