Well, it's the closing of another great weekend. We had a blast at Terri & Brian's wedding last night, we are so happy for them! She was such a beautiful bride, looking stunning & glowing. Unfortunately, I didn't realize until the ceremony that my camera batteries were dead. Absolutely no charge at all… doh!
Still recouping today. I'm not used to being out too late, and it definitely takes a toll on me, these days! Kaylor even napped today after spending time at Mamaw's house. Here is a picture that I snapped of her in the tub tonight.. I love her big smile!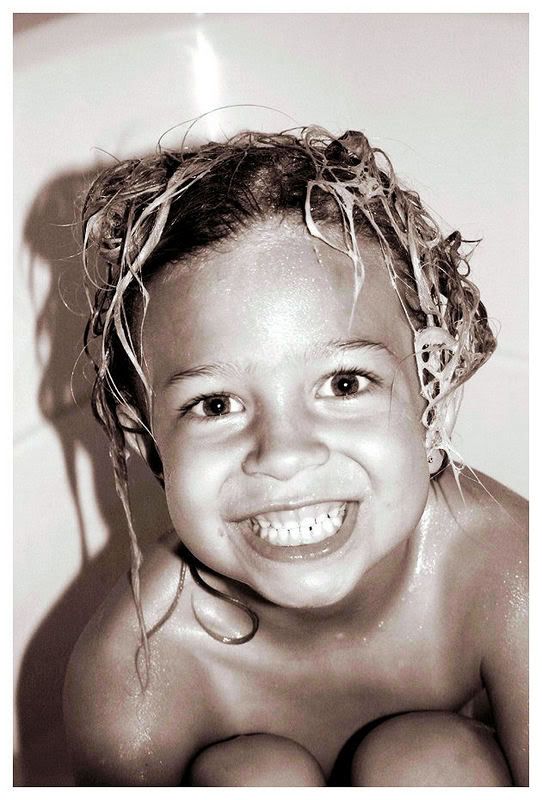 My job, thankfully, I still have. There were 7 people let go to take the package. A couple that had volunteered and a couple that were extremely caught off guard. We know, however, that that was only the first round of "budget cuts". We have no idea when, but we're all sure that it will be happening again at some point. Hopefully later than sooner! I need the large amount of vacation/personal time that I get every year to schedule time off for our wedding and honeymoon!
Wedding plans are moving right along. Lots of contacting to do, for pricing and such, but we're getting there. It's all I can do not to have my mother get my dress out for me to dance around in! lol
Life is good, God is great, God is big. Our focus of today's sermon was all about His greatness. A verse spoken at the wedding yesterday, one that should be placed closed to one's heart:
"Dear friends, since God so loved us, we also ought to love one another. No one has ever seen God; but if we love one another, God lives in us and His love is made complete in us." -John 4:11-12
Words that ring so true.. love is built on a foundation of loving God, and sharing faith. I'm utmost thankful to have found that exact quality in my husband-to-be. Knowing that loving each other, lets God shine through and brighten our lives and our hearts.